glass staris - a step into freedom
Modern and powerful, yet infinitely light. All-glass stairs are more than the connection between two levels. With their weightless aesthetics, they make a design statement in a space and are robust and resilient despite their delicate effect.
With its many years of expertise in glass lamination, sedak has made architectural history. The construction of transparent, self-supporting stairs is also possible thanks to the lamination technology specially developed by sedak. Stair stringers and steps are made entirely of glass. Up to now, drilled fittings have been used in the construction of modern glass stairs. The disadvantage of this traditional mechanical technique is lower performance. With sedak lamination technology, the individual elements are bonded to each other via exterior or interior laminated fitting components. Tests confirm that the lamination process has a load capacity that significantly exceeds that of the glass.
sedak all-glass staircases are both a visual as well as technical highlight. The minimalistic design of the metal fasteners accentuates the static function. A dot-shaped digital print, for example, is used for slip resistance.
The maximum transparency, high-quality design and load-bearing capacity were the arguments that made this stair type a design specification for Apple High Profile Stores worldwide.
The stair treads made of laminated safety glass (VSG) are attached to the stair stringers with reduced metal fittings, which are also made of laminated safety glass. White glass is generally used as the basic glass.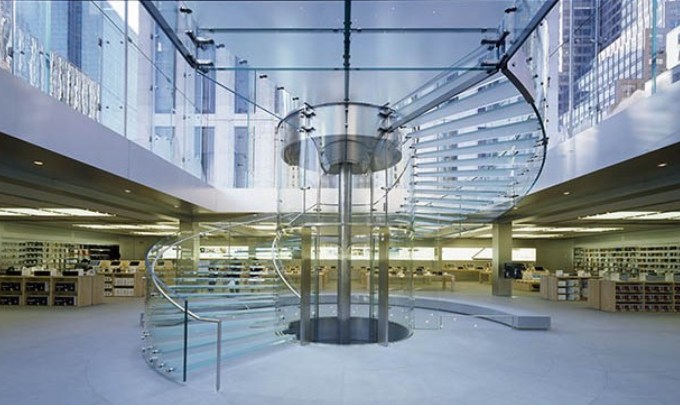 Apple Cube - USA
Bohlin Cywinski Jackson