sedak gsp. the first facade glass with a U value of 0.13 W/(m²K)
How can we make facade and glass applications more energy efficient? Does glass always have to be transparent? How can we optimize basic functions such as thermal insulation and summer heat protection with a striking design? sedak gsp is our answer to energy-efficient glass applications of the future. The new, opaque facade glass combines individual design with an incomparably low U-value.
gsp - the facade glass for energy-efficient and sustainable facade concepts of tomorrow.
sedak gsp is designed for sustainable building concepts and future-oriented architecture. The opaque facade glass consists of a conventional sandwich panel and a customizable glass surface that is structurally bonded to the panel. This creates an indvidualizable and durable facade component that is easy and economical to install. The component has a national technical approval (abZ/aBG, Z.10-4.674).
sedak gsp not only improves the appearance, but also optimizes the energy efficiency of buildings, reduces operating costs and improves indoor comfort thanks to its excellent insulating properties. Its excellent thermal insulation, energy efficiency and recyclability properties help meet common sustainability standards such as LEED, BREEAM and C2C. All components of the facade glass are fully recyclable and can be returned to the material cycle after their life cycle.
As a versatile system solution, sedak gsp is used in a wide range of building types. Whether office, industrial and commercial buildings as well as school or residential buildings, sedak gsp enhances every building energetically and visually. The glass surface is printed with ceramic inks that are weather-, UV- and heat-resistant. This ensures color fastness and brilliance over the decades-long service life of the façade.
With regard to the maximum length dimensions of up to 20 m, there are virtually no limits to the creative planning.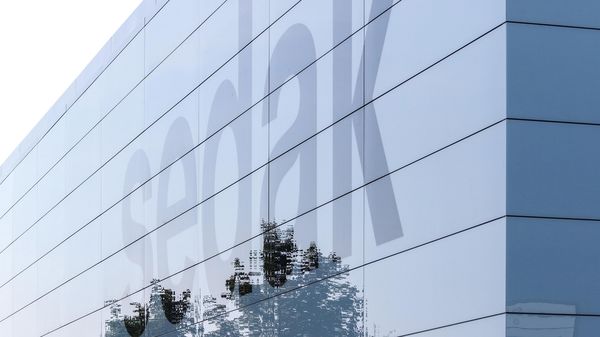 application fields
Office/industrial buildings. Production facilities and warehouses become eye-catchers with sedak gsp. Particularly partial areas, e.g. representative office and entrance areas, can be architecturally staged with sedak gsp. Existing industrial halls can be easily and economically renovated with sedak gsp.

Commercial buildings. Supermarkets, stores and showrooms benefit from the high energy efficiency of the facade glass and can thus reduce their operating costs. All elements of the corporate design can be applied to the glass surface and thus real brand buildings can be implemented. The optimal solution for striking office and retail architecture.

Residential buildings. With sedak gsp, the construction time of prefabricated houses, Tiny Houses or parts in modular construction can be shortened, thus reducing costs - with an equivalent enhancement of the design.

Sports facilities. Durability, resistance and ball impact resistance make sedak gsp the optimal component for gymnasiums, fitness studios/gyms and swimming pools.

Public facilities. Thanks to standardized grid formats, facade glass becomes attractive for public buildings such as schools and clinics. Fast building completion and economical planning offer school buildings, daycare centers as well as canteens or hospitals an economical construction solution, especially for extensions.
sedak gsp - a symbiosis of function and design
With sedak gsp, sedak solves the challenge of executing opaque areas functionally and aesthetically. From new buildings to extensions to renovations, sedak gsp allows energy-efficient and economical construction methods to be applied to all areas of application.
sedak gsp - the facade glass for energy-efficient facade concepts of tomorrow